Back
New research shows what many in talent acquisition already know: Pay transparency is top-of-mind for job seekers.
In a recent survey* conducted by LinkedIn, 91% of U.S.-based respondents said that including salary ranges in a job post would affect their decision to apply. This remains consistent across industries and worker seniority.
What's more, when asked which elements of a job description are most helpful in deciding whether to apply for a position, only responsibilities of the role (90%) outperformed salary ranges (89%). Finally, in a more recent LinkedIn survey, 82% of respondents said that seeing a salary range in a job description would give them a more positive impression of a company.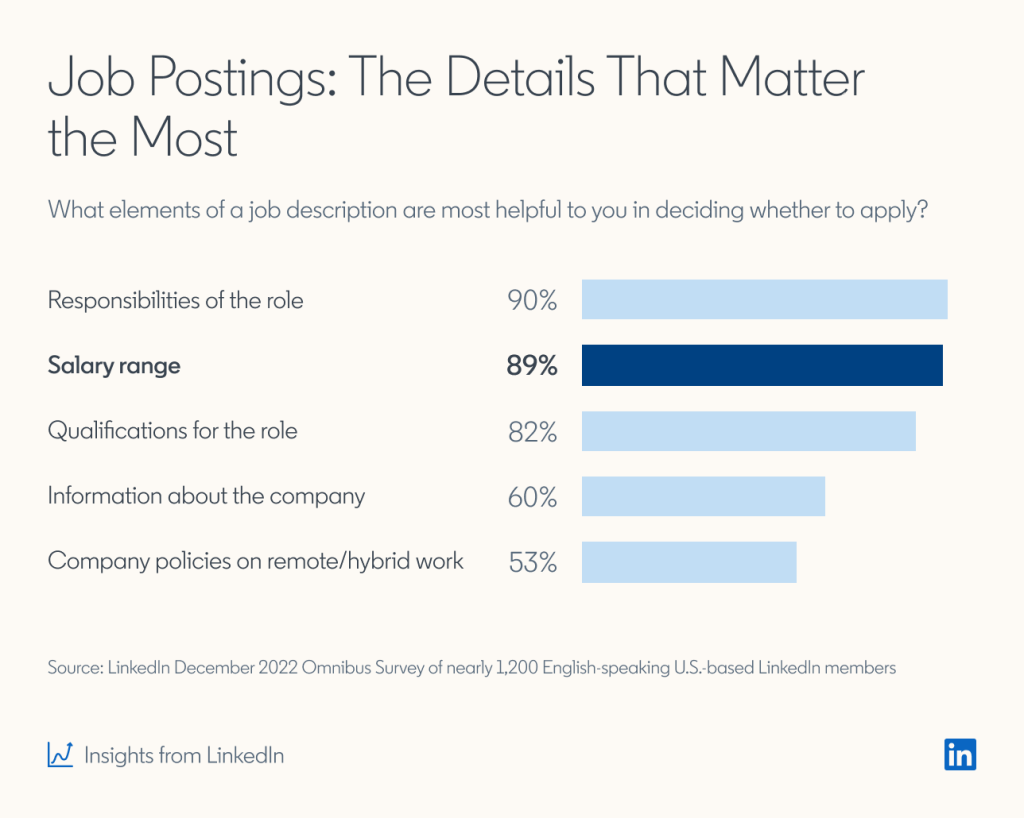 For talent acquisition teams, these data points suggest an upside to embracing salary transparency that goes well beyond compliance. Many candidates who might otherwise be on the fence may apply if you share ranges. Clearly, a few may see your ranges and, expecting more, choose not to apply. But even that is good news — you don't want to invest too much time in candidates who will ultimately spurn your job offer because the compensation is not what they are looking for.
This is one of the biggest workplace movements of 2023 
Pay transparency is one of the hottest trends in the workplace. From Norway to New York City, millions of job seekers are finally able to peek behind the mysterious wage curtain.
In the U.S., 2023 promises to be a banner year for salary transparency, with California and Washington having joined the growing list of states and municipalities where employers are required to post salary ranges in job listings. It's projected that 20% of all U.S. workers are now covered by pay transparency laws.
Yet despite the data, many employers remain unconvinced.
Salary transparency can help with pay equity
Simply put, pay transparency helps level the playing field — and, ultimately, that's good for business.
A study published last year by two University of Utah professors examined the salaries of 100,000 academics over a decade and found that increased transparency led to a 20% decline in gender pay inequity.
And, counterintuitively perhaps, it doesn't have to send salaries skyrocketing. A separate study by a professor at the Harvard Business School reported that companies in states and cities with pay transparency laws saw their overall salaries fall by 2 to 3 percent. The rationale being that the laws encouraged employers to set lower salaries to avoid costly renegotiations.
Final thoughts: Pay transparency helps foster a healthy work culture
"Few topics are as emotionally charged as salary," says NPR correspondent Stacey Vanek Smith. "It is, after all, the most concrete expression of how much our workplace and company values us and our work."
As companies compete for talent in what's still a tight labor market, it's never been more crucial to communicate pay practices to both candidates and current employees.
Michelle Cheng, talent director at British venture firm Notion Capital, says that taking the guesswork out of compensation helps foster a healthy work culture.
"A company that embraces pay transparency conveys so much more than just the salary itself," she told Forbes. "It's the subtext in treating everyone like an adult and establishing a culture of openness."
* This self-reported data around impact on applying and the helpfulness of different elements in a job description was collected in partnership with LinkedIn Market Research from a snapshot sample of 1,193 English-speaking U.S.-based LinkedIn members during December 2022. The self-reported data on how salary ranges in a job description would impact a job seeker's impression of a company was collected in partnership with LinkedIn Market Research from a snapshot sample of 1,779 English-speaking U.S.-based LinkedIn members during January 2023. Data is not weighted; therefore, results should be considered directional.
Original Article: Linkedin Talent Blog
Struggling to decide on a fair salary range for your team? We provide fast and accurate market intelligence to help you make the right decisions. Give us a call on 02920 620702 or Contact Gareth Allison.